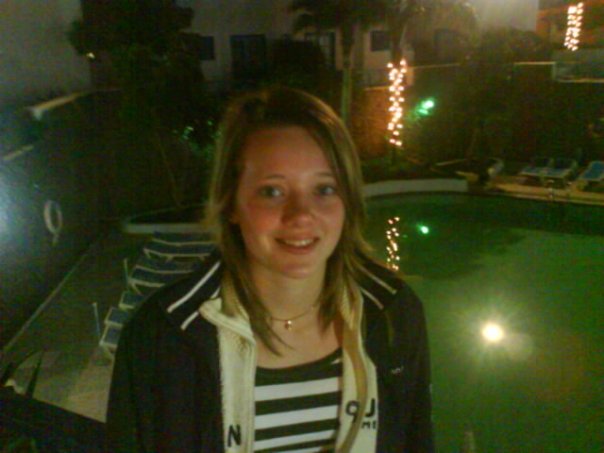 for your record, the pic is old, haha
name: Hanne
nickname: Hannemor, veggen(the wall), høna, hannylol, perhonen
age: 19
birthday: 5th of june 1990
location: Larvik, Norway
pets: None, but i really wanna have a cat

favorite animal: Cat, duh!
starsign: Twins
hobbies: Hanball. Its my fave sport and i love playing it. And i am a goalkeeper

And i love to just chill with friends. And i guess i can call The Rasmus one of my hobbies too

things you love: THE RASMUS, my friends, family, (what am i forgetting here?) ah, handball

Things you hate: I dont hate, i dislike... i dislike brown cheese, and other weird food. false people and people who cant make own desicions. cant think of anything else atm...
I believe in: God(i'm christian), Love, that The Rasmus will come to Norway one day!!!!!!!
books: Harry Potter. The books are amazing, and the movies are pretty good.
films: THE ISLAND, italian job, dancer in the dark, the crow, pirates of the caribbean, wild child, the hangover, the zohan and many more. gonna watch harry potter in 2 days

sports: handball

:D:D:D:D and i love most other sports
favorite food: taco, pizza, chili con carne, lasagne, baked potato and much more, i love food

favorite fruits: all, exept melon
favorite dessert: all, i love deserts, haha

favorite drink: soda, im non alcoholic

favorite colour: all, world wouldnt be the same if you took one away!
The Rasmus
how are you fan, since when: 2003 when i first heard In the shadows

how did you find out about them: I heard In the shadows on "VG lista topp 20" norwegian music program:)
favorite album: Hm, cant pick one. they are outstanding in each their way. I say: Peep, Playboys, HellofAtester, Into, HellofAcollection, Dead Letters, Hide from the sun, Black Roses

favorite song: I cant pick just one here either, i love them all

buuut, there is one song that means very much to me in a special way and that is Cant stop me

first single/ ambum/ you bought: Ah, Black Roses, got it for christmas!!
favorite member: Lauri, Pauli, Aki, Eero. The band wouldt be the sam if you took one of them away. same as with the colors, hehe
why you love there music so hard: Their songs are so deep, and filled with so much feelings of either joy, love, sadness, madness, or other, that it becomes beautiful. not one song is bad and they keep it up and still make good songs. thats what i love

what feelings did it give you: Whatever comes to my mind! mostly joy
did you ever cry with them: oh yess. and i usually dont cry of songs

do you like other music bands: sure i do. i like red, breaking benjamin,him + + + check my youtube channel for more, im too lazy to write all here
what is one dream you wish come true: to see The Rasmus live one day and hopefully meet the guys. I'd also love to be able to play hanball for mayny years more

your favorite quote:
Lauri:
"Hikkori tikkori toikki,
hiiri kelloon loikki,
kello meni poikki..."
Aki:
"The only thing I was ever good at was drumming, and I sucked at everything else"
Eero:
"Hello, my name is Eero, i'm 16 years old, and i'm standing in the middle of the crystals"
Pauli:
"Eight minutes, no more, no less, no more, no less!" (i know Lauri also said this

)
something you wanne say more: I LOVE THE RASMUS!
your sites:
https://www.youtube.com/user/deweyreesemalcom
http://www.myspace.com/linturasmus
http://community.therasmus.de/user/view/LintuPentu/74932
i do have facebook too ^^