Hey everyone,
I have found a older article of The Rasmus in RockOne...
It's not new but i though it would be still nice to post it here.
The Article is in france but i have translated it a bit!!
and i also made a screen of it!!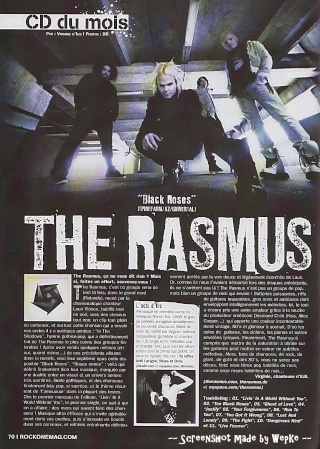 Article ( france):
The rasmus, Ça ne vous dit rien? Mais si Faites un Effort, souvenez-vous!
The Rasmus c'est ce groupe venu de tout là bas, le dans le grand nord ( finlande), mené par le charismatique chanteur Lauri Ylönen, habillé tout en noir avec des cheveux de corbeaux, et surtout cette chanson qui a envahinow ondes il y a quelques années: " in the shadows", hymne gothico-pop, qui a définitivement fait de the Rasmus le plus connu des groups finlandais! Aprés avoir vendu quelques millions ( eh oui quand meme…) de ces precedents albums dans le monde voice leur septième opus enfin disponible " black roses. Viola qui définit finalement bien leur musique, marquee par une dualité entre un visual et un univers sonore trés sombres limite gothiques et des chansons finalement trés pop si sucrées, et le theme recurrent de l'amouuuur 'dans la plupart des texts. Dès le premier morceau de l'album, living in a world without you, le premier single on sait à qui on a affaire: des mecs qui savent faire des chansons! Musique ultra efficace qui s'invite agréablement dans vos Oreilles puis s'incruste en boucle dans vos cerveaux et refrains entraînants délicieusement portés par la voix douce et légèrement écorchée de lauri. Or, comme ils nous l'avaient démontré lors des disques precedents, ils ne s'arrêtent pas là the Rasmus n'est pas un groupe de pop mais bien un groupe de rock qui envoie! Batteries puissantes, riffs, de guitars imparables, gros sons et ambiance dark envoloppent intelligemment les melodies, ici le tout a encore pris une autre ampleur grace à la touche du producteur américain Desmond Child (kiss, alice cooper…) qui apporte une couleur incontestablement vintage 80's et glamour à souhait d'oÙ les solos de guitars les voilons, les pianos et autres envolées lyriques. Finalement, the Rasmus a compris que mettre de la saturation a blinde sur les guitars peut mettre en valeur de subtiles, melodies. Alors fans de chansons de rock de glam de goth et des 80's, vous ne serez pas déÇus. Voici onze titres pop habillés de rock comme onze roses habilées de noir….
Track Listing:
"Livin' in a World Without You" (3:50)
"Ten Black Roses" (3:54)
"Ghost of Love" (3:17)
"Justify" (4:26)
"Your Forgiveness" (3:55)
"Run to You" (4:11)
"You Got It Wrong" (3:15)
"Lost and Lonely" (4:46)
"The Fight" (3:45)
"Dangerous Kind" (3:46)
"Live Forever" (3:20)
Article ( English):
The Rasmus, Do it say you anything? But if Make an Effort, you remember!
The Rasmus is this group from all there, in the far north ( Finland), led by the charismatic singer Lauri Ylönen, dressed all in black with raven (cool) hair, and especially this song which waves few years ago: "In The Shadows", gothic-pop anthem, which has definitely made the Rasmus most famous Finnish groups! After having sold millions (yes, still ...) of the previous album in the world, their seventh installment now available "black roses. Viola, finally sets out their music, marked by a duality between a visual and sound universe very dark and gothic limit ultimately very pop songs so sweet, and the recurrent theme of love 'in most texts. From the first track on the album, living in a world without you, the first single we know who we are dealing: guys who can write songs! Music ultra efficient invites himself comfortably in your ears and then encrusted loop in your brain and deliciously catchy chorus carried by voice soft and slightly low from Lauri. However, as they had shown us during the previous disc, they do not stop there the Rasmus is not a pop band but a rock band that sends! Batteries powerful riffs of guitars unstoppable, big sound and dark atmosphere envelopments intelligently melodies, everything here has taken yet another scale thanks to the key U.S. producer Desmond Child (Kiss, Alice Cooper ...) which provides a color definitely vintage 80's and glamour of desire or solos violins, the guitars, pianos and other lyrical flights. Finally, the Rasmus has understood that putting the saturation blind on guitars can enhance the subtle melodies. While fans of rock songs of Goth and glam of the 80's, you will not be disappointed. Here are eleven tracks pop rock dressed as eleven roses black songs....
Track listing:
"Livin' in a World Without You" (3:50)
"Ten Black Roses" (3:54)
"Ghost of Love" (3:17)
"Justify" (4:26)
"Your Forgiveness" (3:55)
"Run to You" (4:11)
"You Got It Wrong" (3:15)
"Lost and Lonely" (4:46)
"The Fight" (3:45)
"Dangerous Kind" (3:46)
"Live Forever" (3:20)

Wepke