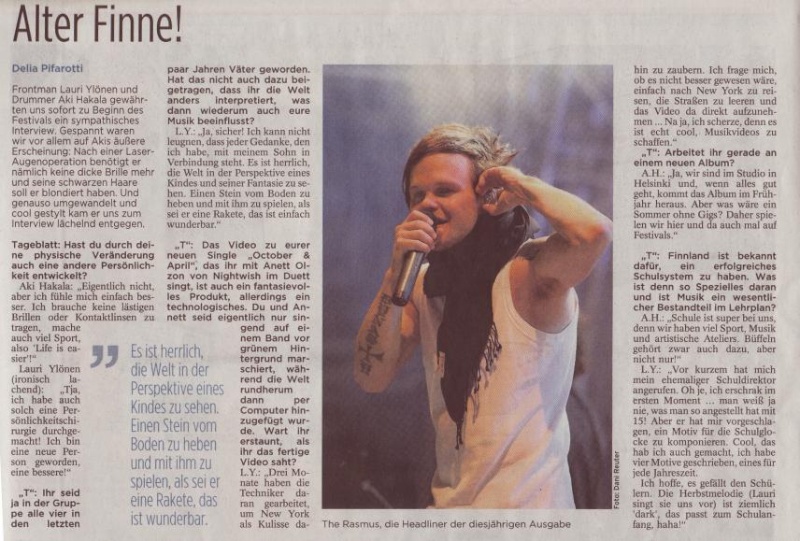 OldFinn!
Frontman Lauri Ylönen and drummer Aki Hakala gave us right at the beginning of the festival a sympathetic interview. We were especially curious to Akis outside appereance: After a laser eye surgery he no longer need thick glasses and he should have dyed his black hair blonde. And excatctly that changed and cool styled he camed to our interview, smiling.
Interviewer: Did your physical change also advanced a different new personality?
Aki Hakala: Not really, but I feel better. I do not need to wear nasty glasses or contact lenses. I do a lot of sport so 'life is easier'
Lauri Ylönen (ironic laugh): Well, I had such a personality surgery as well! I became a new person! A better one.
Interviewer: You all in the band became fathers during the last years
Didn't it conductive that you have a different interpretation of the world which affects to your music on the other hand?
Lauri Ylönen: Yes sure! I can not deny that every thought that I have is in connection with my son. It is glorious, to see the world in the perspective of a child and seeing his fantasy. To raise a stone off the floor and play with it like it is a rocket that is simply wonderful.
Interviewer: The video to your new single 'October and April' that you did together as a duet with Anett Olzen from Nightwish is also an imaginative product, but a technology. Anett and you are just singing on a treatmill in front of a green background and while marching the world around you is added by computer. Have you been surprised when you saw the finished video?
Lauri Ylönen: Three months the technicans have worked at to get New York as backdrop then. I ask myself if it would'nt have been better to travel to New York, empty the streets and record the video directly. Well, I joke because it's really cool to create musicvideos.
Interviewer: Actualy you work on a new album?
Aki Hakala: Yes, we are in the studio in Helsinki and if all goes well, the album comes out in spring. But what would be a summer gigs without? Therefore we play here and there on some festivals.
Interviews is: Finland known for its successful school system. What is so special in it and is musican essential component in the curriculum?
Aki Hakala school: School is super there, because we have a lot of sports, music, and artistic studios. Studying is needed too but not only!
Lauri Ylönen: Recently I was called by former principal. Oh, I was shocked in the first moment ... You never know what someone has engaged at the age of 15!
But he has proposed to compose a motive for the school bell. Cool, I've also made, I have written four motives, one for each season. I hope the students like it.
The autumn melody (Lauri startes to sing it to us) is quite 'dark' so it fits to the beginning of school 'haha'
source: www.tageblatt.lu
Also do not re-use the translation without posting the right copyowner with it!
She done hard work on it!! So ask her first!
Translation done by Musta Varjo!!!