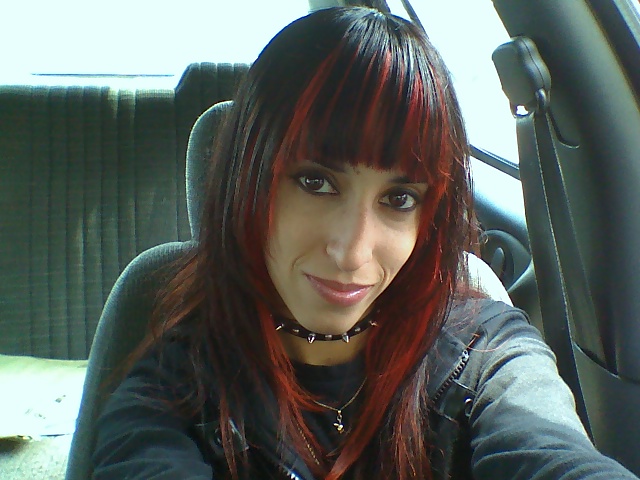 name: Cristal
nickname: Cris
age: 26
birthday: 5/15/83
location: Chicago, IL
pets: 1 Bird, 1 Hamster
favorite animal: Crow
starsign: Taurus
hobbies: Reading, Video Games, Playing Guitar, Collecting Action Figures, Swords, Guns, Knives, Daggers, Listen To Music, Go To Concerts, I Also Love Going To Cemeteries and Watching Thunderstorms, etc...
things you love: See Above and The Rasmus
Things you hate: People Who Hate The Rasmus
I believe in: Stuff!!!
books: The Lord of the Rings Trilogy, The Silmarillion, The Picture of Dorian Gray, Twilight Series and Many More
films: The Crow, Terminator 2: Judgement Day and Many More
sports: Xtreme Sports(BMX, FMX, etc...)
favorite food: Pizza
favorite fruits: Not A Big Fan Of Fruit...I Prefer Vegetables
favorite dessert: Brownies, Ice Cream
favorite drink: Pepsi!!! Also, Jack n' Pepsi and Rum n' Pepsi
favorite colour: Black, Purple, Red, Blue, Silver, Gold
The Rasmus
how are you fan, since when: 2004
how did you find out about them: TV
favorite album: All Of Them
favorite song: In The Shadows
first single/ ambum/ you bought: Dead Letters
favorite member: Lauri Of Course <3
why you love there music so hard: Because I Love The Way It Sounds And I Love Lauris Voice, etc...
what feelings does it gives you: It Makes Me Happy
did you ever cry with them: No
do you like other music bands: Of Course
what is one dream you wish come true: To Meet The Rasmus, Especially Lauri : )
your favorite quote: Always forgive your enemies; nothing annoys them so much -Oscar Wilde-
your sites: http://www.myspace.com